Eric Fink has recruited a small dynamic professional team to innovate, design and construct some of the world's finest hyperbaric equipment.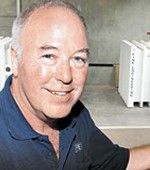 Eric Fink
Managing Director - Founder & owner
Eric Fink is a transplanted American Engineer (now Australian and American) who has been involved in the offshore diving and medical hyperbaric fields for his entire career. He founded Fink International/Fink Engineering in 1987 an Australian owned and operated company which now leads the world in the design and supply of Rectangular Hyperbaric Facilities for the medical industry.

He is a chartered Engineer in Australia and a Registered Professional Engineer in the USA and excels at innovative design.

He was also responsible for the design and construction of more than 23 saturation diving systems over the years culminating in the winning of the Australian
Design Award in 1996 for having designed the U.S. Navy Transportable Recompression Chamber System now a fleet issue piece of kit.
Greg Thomas
General Manager - Design & Project Management
Greg Thomas, General Manager joined Fink Engineering in 1994 and has been an instrumental part of FE's continuing development providing a wealth of knowledge and experience gained from his former occupation as a design team leader for the F111 programme at Hawker DeHaviland. He is fully proficient with the use of the high end 3D CAD programme used at Fink and heads up the structural design section of FE as well as Project Managing Hyperbaric design, manufacture, installation and testing of FE's Hyperbaric Systems.

Greg joined FE to successfully provide the first all metric design package to be accredited by NAVSEA for the U.S Navy's Transportable Recompression Chamber Systems.
George Fink
Hyperbaric Specialist
George an Applied Sciences Graduate from RMIT joined FE part time in 1998 and then full time several years later as a Hyperbaric Specialist to install and commission our hyperbaric systems. He brought with him a wealth of experience gained from installing saturation diving systems offshore in the North Sea and Asia. In between heading up the installation of our new rectangular hyperbaric medical treatment facilities, he looks after their on-going maintenance including our range of Equine Chambers currently operating in the Middle East.
Paul Dawson
Quality Manager - Designer
Paul is a Graduate Industrial Designer from Scotland who joined FE in 2001 as a fully competent 3D CAD specialist and has been actively involved in the development of FE's equipment including the custom designed SNDL Med Locks for the U.S. Navy. He was promoted to Quality Manager in 2010 and was instrumental in our achieving ISO & FDA accreditation and more recently recognition by the TGA for our range of Rectangular Hyperbaric Systems.
Girish Kurra
Electrical Engineer
Girish Kurra obtained his Masters Engineering Degree from the University of South Australia in 2007 and joined FE two years later to head up the control system and software design. He spent his first two months with FE troubleshooting our electrical installations in Melbourne, Brisbane, Salt Lake City in Utah, the Mayo in Minnesota and Aurora in Wisconsin. Since then he has been instrumental in the ongoing development of our innovative electrical design including the oversight of their installation and commissioning on site. Girish is a member of the Institute of Engineers, Australia.
Kris Mis
Mechanical Engineering Technician
Kris a Polish Graduate Engineer recently acquired Australian Citizenship after joining FE in 2010. He is responsible for the ordering, receiving and inspection of our hyperbaric equipment and the pursuant assembly and construction of our hyperbaric systems. He brings with him a wealth of experience in manufacturing processes gained from an active career in Krakow mechanical systems for mining and metallurgical manufacturing companies.
Dorothy Caple
Administration
Dorothy looks after the administration at FE and is the contact person for accounts receivable and payable and the myriad of other administrative detail that is required to keep the above group of engineers in control. She joined FE in 2007 and has been instrumental in keeping our accounts in order and our administrative systems intact.
Nathan Brown
Installation technician
Nate joined FE in 2010 as part of FE's team to install the Rectangular Triple Lock Hyperbaric Facility at Hennepin County Medical Center in Minneapolis, MN. An ex US Navy Seal, Nate has had considerable experience with hyperbaric systems not the least of which was the completion of 600 treatments as an attendant in FE's Hyperbaric Facility at Aurora Health, St Luke's Hospital in Milwaukee. Nate is a qualified CHT and is Fink Engineering Representative in the USA and Canada.